INTERACTIVE ELECTRONICS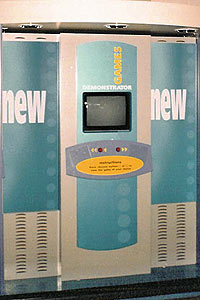 ADI began life in 1991 with humble sound installations. But we were never happy to rest on our laurels, always looking for new products and markets.
Specialising in cutting-edge technology, ADI soon became highly respected as one of the UK's premier video wall suppliers, installers and programmers. The majority of our market was in the Retail, Catering and Leisure industries.
Our first venture into electronic design was the Listening Point, a device enabling customers to listen to CDs remotely. The product soon dominated the marketplace, staying ahead of the competition with constant innovation and the ability to be customised for each client. But just as important was excellent reliability - and the fact it was virtually vandal-proof.
The Listening Point was so successful that new products like Video Point and Game Point were designed with similar market domination. ADI continues to design with the help of our technology partners (such as Barco, Beyer, Pioneer and Sony).